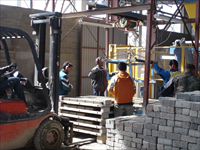 Pristina, Kosovo

Funded by USAID and Norfund, the Kosovo Crimson Finance Fund (CFF) received its license and opened its doors for business in December of 2008. CFF is based on the highly successful Crimson SME Fund in Macedonia, and is designed to provide short-term working capital to small and medium sized enterprises to allow them to pay for raw materials and other inputs to fill orders and grow their businesses. (See http://www.cffkosovo.com/english1.htm)

CFF recently made its first loan to the Shalaj company. Located in Istog, Kosovo the Shalaj company makes cement curbing for highway construction and sidewalk blocks. Shalaj has been in business since 2000 and has gradually developed into a leading local producer of these products. However, Shalaj's ability to produce adequate supply of roadway curbing and sidewalk blocks was limited by an unreliable and frequently interrupted electricity supply. The Shalaj company had both the desire and the customer demand to grow its business, but could not meet increased production demands due to the erratic electricity supply.

Utilizing loan funds provided by USAID, CFF was able to engineer a loan that (leveraged together with the company's own internal cash flow) enabled Shalaj to purchase an industrial sized electricity generator, pressurized pallets and two heavy-duty trucks. The CFF loan to the Shalaj company allowed Shalaj to overcome the irregularities of the electrical supply, to increase production by 150% and to add a second production shift. As a result of this increased production and the second shift, Shalaj is adding nine new permanent employees. In addition, increased Shalaj's increased production and sales also benefit the construction sector value chain, made up mostly of Kosovo companies.

The CFF loan to Shalaj has a tenor of 12 months, with monthly interest payments and some interim principal payments to provide reflow to CFF for on-lending while simultaneously mitigating risk. Shalaj is able to repay the loan with increased cash flow from its increased production and sales. As the CFF is set up as a revolving loan fund, once the funds are repaid by Shalaj, they will be relent over and over again to other Kosovo SMEs to create more sales and employment on an ongoing basis.