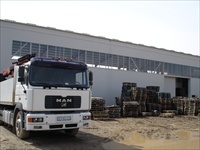 Prizren, Kosovo

Based in Prizren, Kosovo, the Er Mali company processes volcanic rock for road construction. Because of its strong binding properties, volcanic rock is considered the most desirable rock to mix with asphalt for road construction. The Er Mali quarry is the only source of volcanic rock in Kosovo. Since the movement of commodities and finished products within Kosovo and trade to and from other countries depends almost entirely on road traffic, the medium-term success of Kosovoís economy depends to a high degree on the development of a viable, largely new highway system. Crushed volcanic rock coming from the Er Mali company will make improvements in the highway routes between Pristina and Macedonia, Albania (with connection to the Albanian Adriatic port Durres), Mitrovitca and Peja have longer life spans and require less frequent repairs, improving transport and reducing maintenance costs. It will also provide import substitution for similar materials.

The Er Mali company is ready to grow. Just within the first quarter of this year, the company has already secured new orders for its crushed volcanic rock in excess of 300% of all orders it filled in the previous year. But Er Maliís production is currently limited by the lack of an electricity supply connection. Power lines do not reach the processing facilities. Er-Mali has been using a generator to produce the power it needs, but the generator both limits Er Maliís production capacity, it is also extremely expensive Ė requiring more than 25 liters of diesel fuel per hour.

CFF identified Er Mali as a potential client through its marketing and outreach program. With loan funds provided by USAID, CFF was able to engineer a 40,000 Euro loan that (leveraged over 14 times with Er Maliís own resources of 579,500 Euros) will enable Er Mali to install an electrical line (line installation, transformers and hook up fee) for the companyís processing operations. This will allow Er Mali to fill its growing orders and begin commercial-level operations and will result in significant import substitution. Based on this increased production, Er Mali will add 15 new, permanent employees. It will also allow Er Mali to expand its other two production lines, polished stones and sand and gravel. In addition, Er Maliís increased production and sales also benefit the entire road construction sector value chain, made up mostly of Kosovo companies.

CFF structured this loan to help Er Mali fill a higher level of orders for its products. The loan has a tenor of 12 months, with monthly interest payments and some interim principal payments to provide reflows to CFF for on-lending, while at the same time mitigating risk. The repayment of the loan will come from increased cash flow to Er-Mali from its increased production and sales. As CFF is set up as a revolving loan fund, once the funds are repaid by Er Mali, they will be relent over and over again to other Kosovo SMEs to create more sales and employment on a continuing basis.